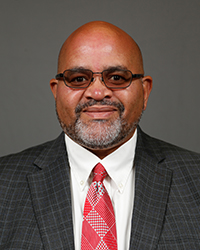 Scott Dickson, Associate General Manager of The Schottenstein Center at The Ohio State University (OSU), will be recognized as a Champion of Change during the 2023 National Sports Safety and Security Conference & Exhibition in San Antonio on June 27-29. The event is presented annually by the National Center for Spectator Sports Safety and Security (NCS⁴) at The University of Southern Mississippi.
Dickson will receive the Champion of Change Award, which recognizes an individual who has demonstrated their ability and commitment to bring about positive change in the sports safety and security industry. Through progressive leadership, this individual's achievements have made a difference in organizational effectiveness and led the organization forward into the future. The award is sponsored by 24/7 Software, which provides a DHS SAFETY Act designated operations management platform to enhance real-time communications, incident management, and more.
"The NCS⁴ mission facilitates discussions about changes that are necessary for our industry," said Scott Dickson, Associate General Manager of The Schottenstein Center at OSU. "Being recognized by your colleagues for sharing your insight and passion is truly an honor."
"Scott is a true champion of change, always on the edge of new practices and technologies and encouraging industry professionals and organizations to pursue excellence. He believes in continuous improvement and helping move his profession to the next level," said Dr. Stacey A. Hall, NCS⁴ Executive Director and Professor of Sport Management. "Scott has been a long-time supporter and contributor to the NCS⁴. He currently serves as the Co-Chair of the Intercollegiate Athletics Advisory Committee, and his leadership has advanced the NCS⁴'s work and role in shaping the sports security profession."
Dickson began his 35+ year career in public facilities in Los Angeles, California, in 1982, working as an usher and peer security at The Forum. In 1986, he moved to Las Vegas and completed an internship at the UNLV/Thomas and Mack Center. After moving to the Pacific Northwest to manage event staff at the Tacoma Dome, he accepted a Director of House Services position at the Rose Quarter in Portland, Oregon. He was responsible for all front-of-house staff and security for the Portland Trailblazers organization. In 2000, Scott began working privately for an event services company in Portland, managing contracted event services for Oregon State University, PGE Park, PGA & LPGA Tours, festivals, and other special events nationwide.
In 2002, Dickson moved to Columbus, Ohio, providing services for The Ohio State University, Columbus Crew, and Promowest Productions. In 2004, he accepted a position with OSU as the Director of Event Services at The Schottenstein Center and was promoted to Associate General Manager in 2018.
He completed the IAAM Public Assembly Facility Management School in 2001 and the IAAM Academy for Venue Safety and Security in 2006 and served on the AVSS Faculty from 2007-2013. Scott currently serves on the NCS⁴ Intercollegiate Advisory Committee. Outside of work, Scott is an avid radio-controlled modeler and ice hockey referee.
The award will be presented at an annual Awards Luncheon that takes place on the second day of the conference. The luncheon is sponsored by Evolv Technology, which provides weapons detection systems for security screening.
Please make plans to join us and register now at http://www.ncs4.usm.edu/conference/. The deadline to register for the conference is June 8. For more information about the awards, visit /about/awards-recognition/.
About the 14th Annual Conference:
The National Sports Safety and Security Conference & Exhibition will be held June 27-29 at the JW Marriott San Antonio Hill Country Resort and Spa in San Antonio, TX. The conference will attract over 450 attendees and 70 exhibitors representing professional sports, intercollegiate athletics, interscholastic athletics, marathon and endurance events, sport and entertainment facilities, and those who provide safety and security products and services to the industry. For more information, visit /conference/.