9/11 Sports Safety and Security Memorial
Inspired by the spirit of those never to be forgotten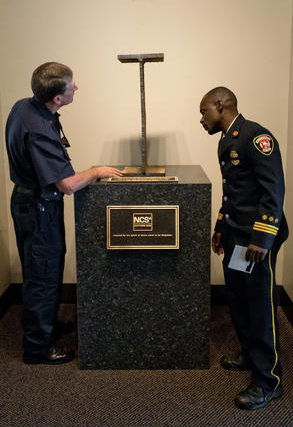 The University of Southern Mississippi has established a 9/11 Sports Safety and Security Memorial at the entrance to the National Center for Spectator Sports Safety and Security (NCS4) at the Trent Lott National Center. The events of 9/11 were a major factor in the creation of NCS4 and this memorial signifies the university's commitment to the Center to provide training, professional development, academic programs, as well as research to address safety and security issues at sporting events nationwide.
The memorial serves as a daily inspiration to the NCS4 staff, campus colleagues, and all those who protect our sporting events. The 111 lb. metal artifact from the collapsed World Trade Center twin towers became part of a permanent memorial at Southern Miss thanks to a special arrangement with the City of Hattiesburg. The Hattiesburg Mayor made a request on the city's behalf for artifacts from the demolished World Trade Center to the Port Authority of New York/New Jersey.
After receiving approval, the city decided that the NCS4 would serve as the appropriate home to honor the memory of those who lost their lives, as well as the brave first responders and those who survived the 9/11 attacks. The artifact was transferred to the University on September 11, 2011 from the City of Hattiesburg and the memorial was dedicated on September 11, 2013.
The significance of the memorial is best captured in the slogan, "inspired by the spirit of those never to be forgotten," which serves as a reminder to those who attend sporting events at Southern Miss and around the nation that NCS4 is dedicated to making sport events safe and secure a national priority.