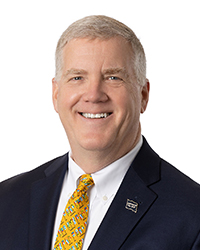 Jim Folk, Vice President of Ballpark Improvements for the Cleveland Guardians, will be presented with the Milton E. Ahlerich Distinguished Leadership Award during the 2023 National Sports Safety and Security Conference & Exhibition on June 27-29 in San Antonio. The event is presented annually by the National Center for Spectator Sports Safety and Security (NCS⁴) at The University of Southern Mississippi.
The Milton E. Ahlerich Distinguished Leadership Award recognizes a professional whose career includes multiple achievements and contributions to sport safety and security. The recipient's service, commitment, ingenuity, and integrity must have elevated the profession to new levels to warrant this prestigious honor. The recipient is selected by a panel of subject matter experts on behalf of the NCS⁴ and awarded annually at the National Sports Safety and Security Conference & Exhibition.
"Milt Ahlerich's consistent emphasis on providing a safe and secure environment for NFL fans helped to raise that focus for all sports and public assembly facilities, and it is fitting that the NCS4 Distinguished Leadership award is in his name," said Jim Folk, Vice President of Ballpark Improvements for the Cleveland Guardians. "His early participation as an inaugural member of the Stadium Managers Association's Industry Council helped give credence and credibility to that group, which continues today."
Folk continues, "I am beyond flattered to be considered for this award, and humbled to be included with the likes of Jeff Stonebreaker, Dan Mullins, Russ Simons, and so many others who have previously received this award."
Jim Folk began his career in operations and facilities management in 1979, working security for the Chicago White Sox at old Comiskey Park. He is now in his 42nd season in Major League Baseball and 32nd with the Cleveland Guardians. He spent ten years with the White Sox, five as Assistant Director of Ballpark Operations, before moving to St. Petersburg, FL, where he participated in the design and construction of then-Florida Suncoast Dome (now Tropicana Field), overseeing the 1990 opening and supervising operations before joining the Cleveland Indians in 1992.
"Jim is a worthy recipient of this distinguished award, given his experience, industry contributions, and passion for ensuring the safety and security of MLB ballparks and patrons for over 40 years," said Dr. Stacey A. Hall, NCS⁴ Executive Director and Professor of Sport Management. "Jim's colleagues speak highly of his work and dedication to advancing the safe operations of venues. He continues leading the way with leadership positions in professional associations and sharing valuable insights nationwide."
As Director and then Vice President of Ballpark Operations in Cleveland, Folk oversaw all operational aspects, including all front- and back-of-house activities of the 43,000-seat ballpark. He was heavily involved in the design and construction activities of the ballpark, overseeing the 1993 final series at Cleveland Stadium and the 1994 opening at then Jacobs Field. He acted as a Project Manager for the Goodyear Spring Training/Player Development Complex and Ballpark, overseeing design and construction activities from 2007-2009.
Since joining the Guardians, Folk has overseen Major League Baseball's All-Star game twice (1997 & 2019), three World Series (1995, 1997, and 2016), and a total of 49 Postseason home games at Progressive Field, along with the then Major League record of 455 consecutive sell-out games, with nearly sixty million fans walking through the gates. In addition, he has assisted Major League Baseball and/or the home club in the execution and supervision of All-Star Games in Chicago (1983 & 2003), Baltimore (1993), and Philadelphia (1996), and World Series in New York (2001 & 2009), Chicago (2005), and Detroit (2006). In December 2020, Folk was named Vice President of Ballpark Improvements to act as program manager for the major modernization activities at Progressive Field.
Folk earned a degree from Loyola University of Chicago in 1984 and is the Annual Seminar Chair of the Stadium Managers Association. He currently serves as Chairman of the USS Cleveland Legacy Foundation and on the Boards of Directors for the Bob Feller Act of Valor Foundation, the Historic Gateway Neighborhood Corporation, and the Downtown Cleveland Alliance. Jim and his wife, Sue, reside in Westlake, Ohio, and have two daughters, Kelly and Erin.
The award will be presented at an annual Awards Luncheon on the second day of the conference. The luncheon is sponsored by Evolv Technology, which provides weapons detection systems for security screening.
Please make plans to join us and register now at http://www.ncs4.usm.edu/conference/. The deadline to register for the conference is June 8. For more information about the awards, visit /about/awards-recognition/.
---
About the 14th Annual Conference:
The National Sports Safety and Security Conference & Exhibition will be held June 27-29 at the JW Marriott San Antonio Hill Country Resort and Spa in San Antonio, TX. The conference will attract over 450 attendees and 70 exhibitors representing professional sports, intercollegiate athletics, interscholastic athletics, marathon and endurance events, sport and entertainment facilities, and those who provide safety and security products and services to the industry. For more information, visit /conference/.