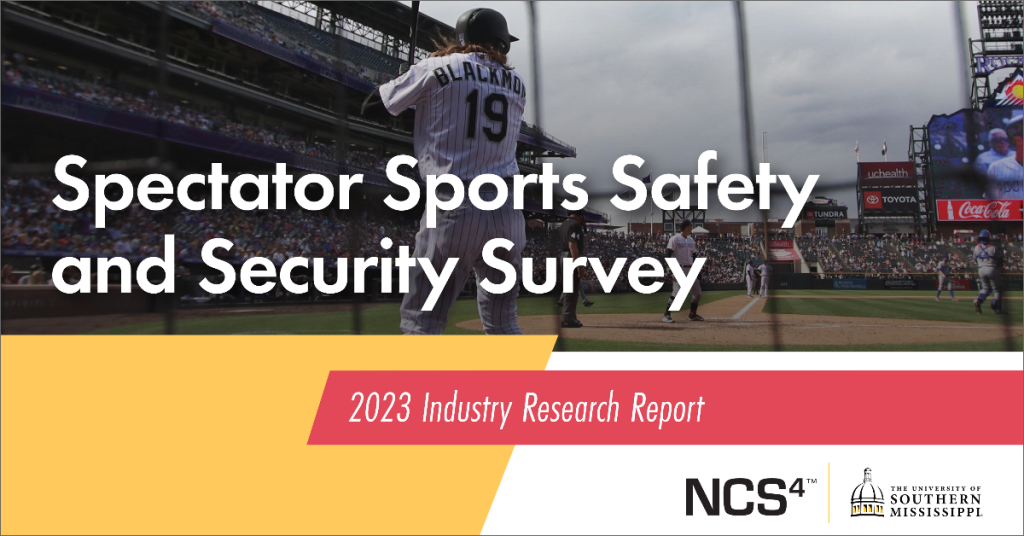 The National Center for Spectator Sports Safety and Security (NCS4) at The University of Southern Mississippi (USM) publishes results from their Spectator Sports Safety and Security Survey in an Industry Research Report.
The study aimed to gauge sport spectators' perceptions of safety and security at live events, awareness and support of policies and procedures, and willingness to embrace new measures and technological solutions to enhance their safety and game-day experience. Understanding spectators' perceptions of safety and security practices and concerns while attending events can help venue and event directors plan accordingly to ensure the optimal spectator experience.
The project was approved by USM's Institutional Review Board (IRB), which reviews academic research involving human subjects to ensure it follows federal and university requirements. A total of 400 participants across the continental U.S. completed the online survey. The report outlines the results of the study in the following sections: Participant Demographics and Attendance Habits; Perceptions of Safety and Security Practices, Technologies, and Industry Threats; and Perceptions of Fan Behavior and the Spectator Experience. Industry recommendations are also provided.
"We are pleased with the research output and hope sport venue and event security professionals and technology solution providers find value in the results," said Dr. Stacey A. Hall, NCS4 Executive Director and Professor of Sport Management.
The NCS4 administers the spectator survey every two years to investigate the general perceptions of industry safety and security practices and the potential impact of related current events among sports spectators.
To view the report, visit /research/industry-reports/.